b

-Diiminate Complexes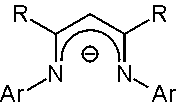 b-Diiminates are wonderful ligands:
They are easy to prepare and to tune.
They allow precise architecture of steric properties.
Due to their negative charge, they bind strongly to transition metals, even those not usually having a high affinity for nitrogen-donor ligands.
They stabilize low coordination numbers, thus allowing the synthesis of species that - with other ligands - would be highly reactive transient intermediates.
Formally, the b-diiminate anion is a 4-electron s-donor, but much of its chemistry can be rationalized more easily by assuming that the ligand is also a strong p-donor. Thus, it shows definite analogies with Cp* in its chemistry with Rh and other metals.
We are currently (still) exploring the remarkable chemistry of this ligand with the platinum metals. For relevant papers, see numbers 158, 155, 148, 145 and 140 of my publication list.